Trump: D-Day Debt Is Everlasting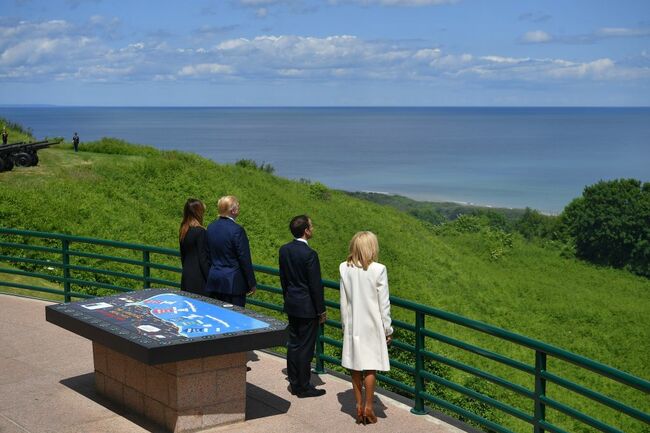 President Trump is remembering the sacrifice and victory of the men who landed on the beaches of Normandy 75 years ago today. Trump and other leaders spoke at the Normandy American Cemetery, where so many thousands of Americans are buried. Trump said their sacrifice was made for the survival of liberty. The President called American veterans of World War Two the greatest generation that ever lived.   
World War Two veterans joined world leaders in Normandy, France today to mark the 75th anniversary of the D-Day invasion. About 160-thousand allied troops landed in Normandy on June 6th, 1944, for a decisive battle that set in motion the end of Adolf Hitler's Third Reich. More than 16-million Americans were in the Armed Forces during World War Two, and nearly 300-thousand died in battle. The National World War Two Museum says nearly 500-thousand World War Two vets were still alive in 2018. 
Photo: (From L) US First Lady Melania Trump, US President Donald Trump, French President Emmanuel Macron and French President's wife Brigitte Macron look out at the sea after a French-US ceremony at the Normandy American Cemetery and Memorial in Colleville-sur-Mer, Normandy, northwestern France, on June 6, 2019, as part of D-Day commemorations marking the 75th anniversary of the World War II Allied landings in Normandy. (Getty Images)

The Joe Pags Show
The Joe Pags Show originates from 1200 WOAI in San Antonio and can be heard on affiliate stations around the country and on the iHeartRadio app. Get his official bio, social pages, articles and more online!
Read more